You might recognize some of these names, or you might not. But while each is vastly different from the next, they all add to Chicago's fascinating history – and they each have Graceland Cemetery to keep their stories alive.
Augustus Dickens, 1827 – 1866, could have been a character in his much more famous brother's writings. The younger brother of Charles Dickens, Augustus was well educated, but fated for as much obscurity as his brother was for fame. The facts of his life suggest that he emigrated to America to escape a wife, and, in fact, brought with him a different woman. He appeared in plays based on his brother's writings, entertained Chicago's leading citizens, failed in business, and until recently, his Graceland plot was unmarked. Dickensian, indeed.
Eli Williams, 1799 – 1881, was one of the early settlers of Chicago, when the population numbered a mere 200. He ran a store, made money in real estate, built a hotel, became active in civic affairs, and died wealthy. Above him is a typical Victorian monument, a vine-covered woman holding a cross. On either side of him are his first and second wives.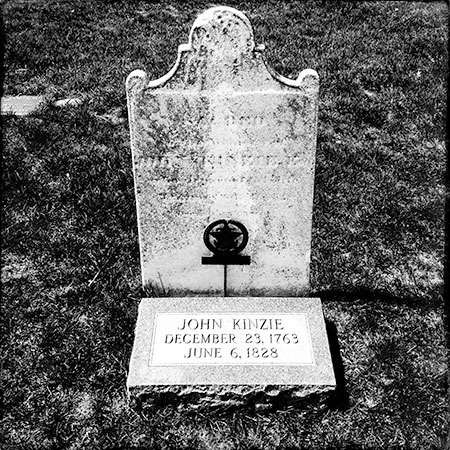 John Kinzie, 1753 –1828, was the first permanent white settler of Chicago. The oldest gravestone in the cemetery, it marks the fourth and final resting place for a man who moved around in life, as well. A native of Quebec, he came here in 1804, settled in the homestead that Jean Baptiste du Sable had built, but was forced to leave for Michigan by the War of 1812. Originally interred in Fort Dearborn, he was moved to Chicago's north side burial grounds, then to the lakefront cemetery, where the Lincoln Park project forced him to move one last time. Resting in peace, finally.
Edith Rockefeller McCormick, 1872 – 1932, was a woman of great wealth – until the Depression. The daughter of John D. Rockefeller and daughter-in-law of Cyrus McCormick, Edith died virtually penniless, a result of the crash, lavish spending and unsound real estate investments.
Henry Brown Clark, 1801 – 1849, was another early settler of Chicago, and another example of someone who had a fortune and lost it. He came here in 1835, sought and found his fortune as a partner in a hardware firm and director of the Illinois State Bank. But his businesses failed in the Panic of 1837, and from then until his death of cholera, he supported his wife and six children by hunting and farming.
Mary Hastings Bradley, 1882 – 1976, was a prolific author of mysteries, travel books, short fiction and novels most notably the Old Chicago series of historical novels. Frequently asked to lecture on her travels, she was inducted into the Society of Women Geographers, whose membership included, Amelia Earhart, Margaret Mead, and Eleanor Roosevelt. Mary was also one of the few female presidents of the Society of Midland Authors as well as an active clubwoman in Chicago.
While traveling in Egypt Mary was inspired to write "The Palace of Darkened Windows" and "The Fortieth Door" detailing the life of the veiled and secluded women of Egypt. Both of these stories were later made into films.
In 1921 and 1922 Mary, her husband Herbert and daughter Alice traveled to Africa and the Belgian Congo with Carl E. Akley of the American Museum of Natural History, for specimens of the mountain gorilla for display in the museum. These expeditions were depicted in her books, "On the Gorilla Trail", "Alice in Jungleland" and "Alice in Elephantland". As a war correspondent for Colliers Magazine in 1945 Mary took on the difficult task of reporting on women in the military in Italy, France, and Germany. At the close of the war she recounted her tour of concentration camps in a magazine feature series on the Holocaust.