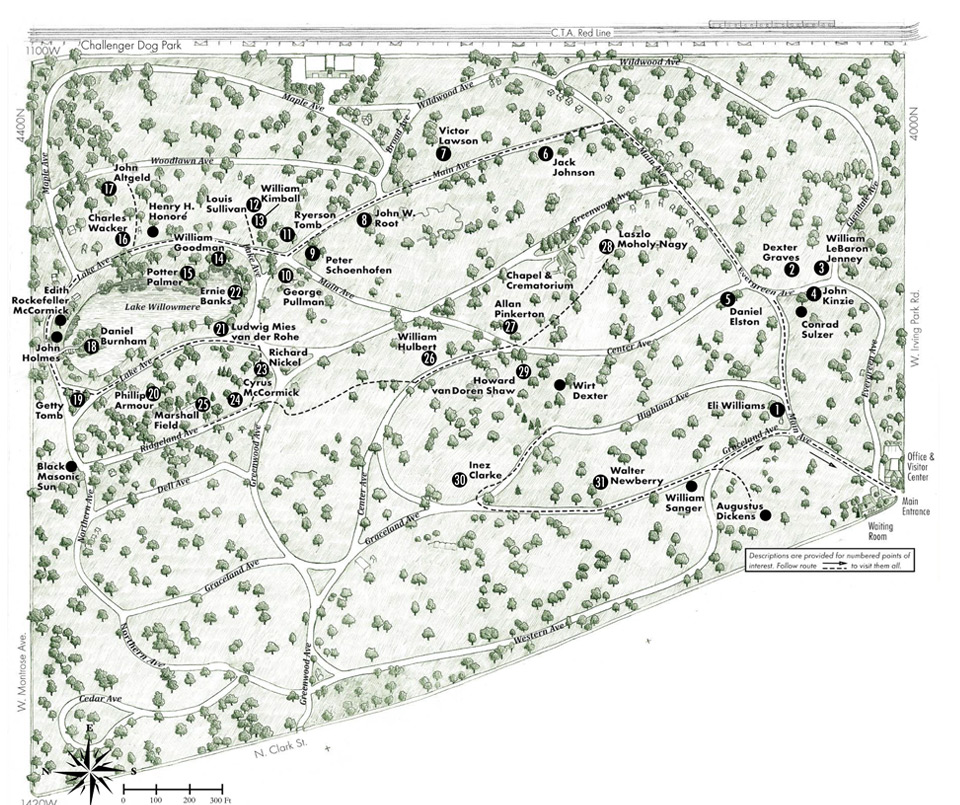 To learn more about the historic figures laid to rest at Graceland Cemetery and Arboretum take our virtual tour. Simply click on a number in the map for more information.
To help you locate many of Graceland's famous Chicagoans and identify their monuments and the architects and designers who created them, you can also pick up a free map at the Cemetery office,

or click here to download a copy.
Map courtesy of Jake Coolidge and Joe Collier.
Jake Coolidge holds a Master of Arts in Geography and works as a cartographer with the National Park Service in Denver, Colorado. During his two years in Chicago, he enjoyed learning the city's local history collaborating on this map. His work can be viewed at www.jakecoolidgecartography.com.
Joe Collier holds a Master's Degree in Library and Information Science and works as a research librarian. When not designing buttons for his Etsy shop BadgesByQuake or wandering Chicago improving his mobile photography skills, he enjoys finding new ways to exercise his passions for public transit, architecture, history, and cemeteries. He (rarely) tweets @mcquake01 but responds to email at This email address is being protected from spambots. You need JavaScript enabled to view it..
**TOUR SEASON RUNS FROM APRIL 1st thru NOVEMBER 30th**